A bed of birch logs
Crafts, Vintage, Decor, Workshop, Furniture, Cheap
Outside the window, the temperature rises and you can slowly begin to repair or update your home interior. Today wewill build something fashionable, brutal-rustic, very unusual and environmentally friendly - a lounge chair made of birch logs.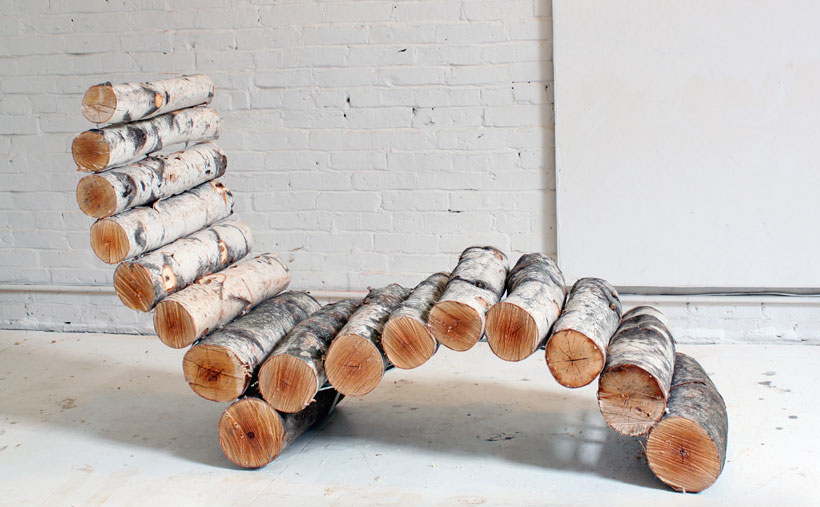 In Europe, even rich interiors rarely do without rough, unstructured beams, coffee tables made of slatted fruit crates, raw stone and non-plastered walls. People just got tired of monotony, "slimming", I want to play, create a house with my own hands, as in childhood. Why don't we allow ourselves creativity, which is both joy and benefit?
What do we need?
birch logs: 10 pieces, 15 cm in diameter for the base and 6 pieces, 7 - 8 cm in diameter for the backrest;
drill or screwdriver;
a long drill with a diameter of 6 mm and a drill bit with a diameter of 30 mm;
screws 21, 5 cm; 15 cm; 9 cm;
brackets or steel plates to reinforce the mount.
How to make a plank bed of birch logs:
First, on the floor, using colored tape, create a bending line for the future seat. Along this line we will collect logs and connect them.
We drill three holes in the logs - first with a feather and then a long one. Put the logs along the contour of the tape and join the screws. When all the logs are connected - the frame of the chair is ready! We reinforce the construction with metal plates.
Related News
Fabric flowers TOP 10 Master Classes
Do-it-yourself installation of an interior door
Recipe for Carrots
Rag doll Snow Maiden
Eggplant in Korean: a magic wand for all occasions