How to make crafts on May 9 - 15 options
The Victory Day of our people in the Great Patriotic War, which we celebrate on May 9, is celebrated especially touchingly and solemnly. There are not so many living witnesses of those terrible times left. Therefore, the younger generation is in a hurry to congratulate war veterans and whole-heartedly give them hand-made souvenirs and crafts.
Schools and kindergartens hold various events that acquaint children with the history of those times, as well as show films and read books about the war. In memory of those who fought for the freedom of their native land, and for those who survived this war, children make crafts and postcards, as well as with feelings of gratitude and respect, they are given to veterans.
In this compilation we present master classes - how to make crafts on May 9 with our own hands with step by step photos. These crafts on Victory Day can be made with children for exhibitions in school and kindergarten or as a gift to grandfather and veterans.
Content:
DIY handicrafts for May 9 - master classes
The younger generation strives to express gratitude to everyone who has not spared himself, who has miraculously survived and remembers his military exploits and military achievements of his comrades. Age people will be very pleased to receive crafts that contain holiday symbols - these may be St. George ribbons or orders from them, doves of peace, carnations, eternal fire or stars, as well as tanks or airplanes.
Be sure to congratulate members of their families on Victory Day. Children love to listen to stories about the past and probably know about the soldiers who went to the front, as well as about their exploits. When these children grow up, they will tell about these exploits to the next generations, but for now they invest their effort and love in small crafts.
Children of younger preschool age can be offered to create flat postcards in the form of applique. Subject of postcards can be like this:
fireworks over the Kremlin;
a composition with a star and young foliage or with a St. George ribbon;
Soldier's helmet among the branches of an apple blossom tree.
If the child is still too small, then adults should help him and cut out the necessary details of the application, after which the child will stick them on the craft.
Very popular are crafts with the image of different colors: carnations, tulips, daisies or roses. Such a gift can be made not only in the form of a paper application, but also by designing, painting, origami or plasticine.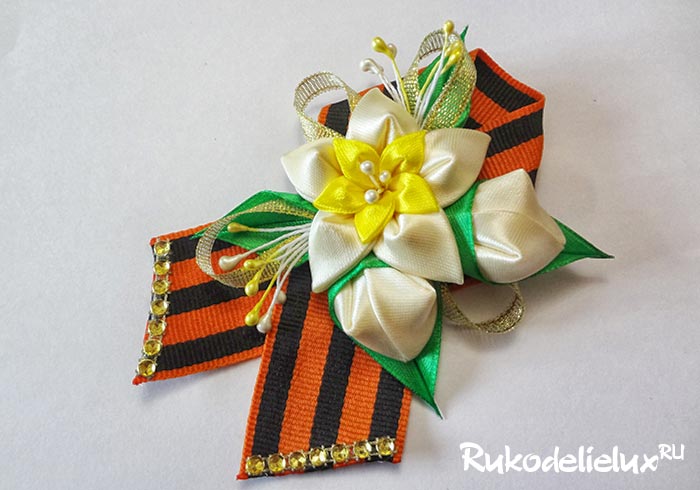 Especially solemnly looks bulk red star, which symbolizes the victory of the Red Army. High school students are quite able to cope with such crafts as a tank of clay or cardboard. Plasticine is a very affordable material, but it allows you to implement any idea. Airplanes, cannons and other military equipment are made of plasticine, and the finished crafts are decorated with colored foil or painted from a can.
For kids, the dove of peace has remained a constant favorite for many years. Thousands of small messengers from paper, plasticine or salt dough fly on Victory Day to veterans in their hands, symbolizing peace and goodness.
How to make a paper stud
In this master class I will show a few options - how to make carnations from paper with your own hands with step-by-step photos and video. Carnations are most often presented as handicrafts for Victory Day to veterans, as well as for birthdays to grandparents. Carnations are wonderful ornamental flowers that delight our eyes in parks, squares and on home lawns.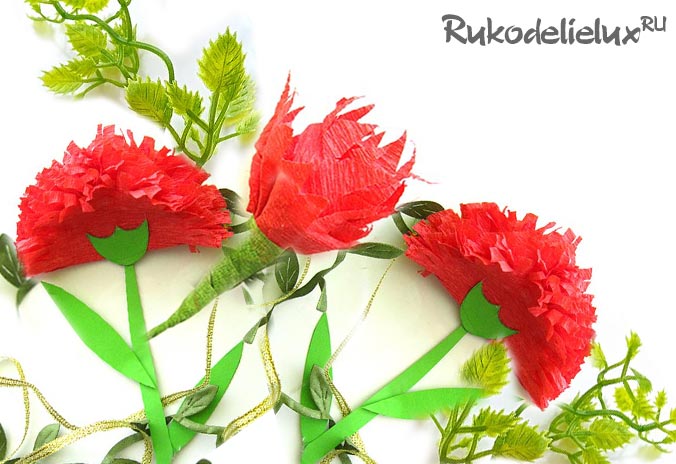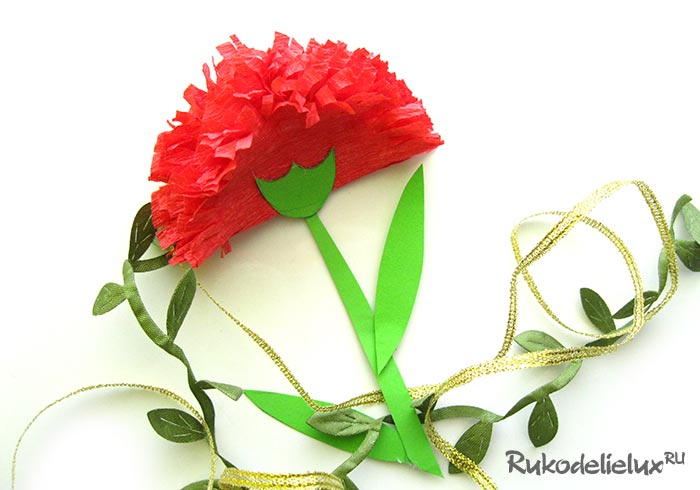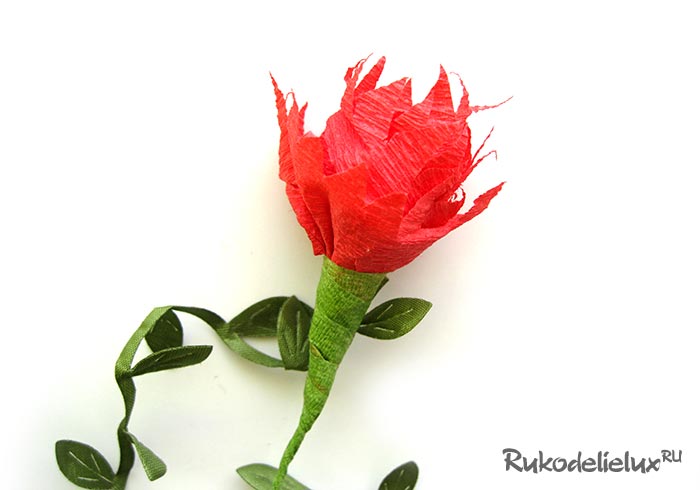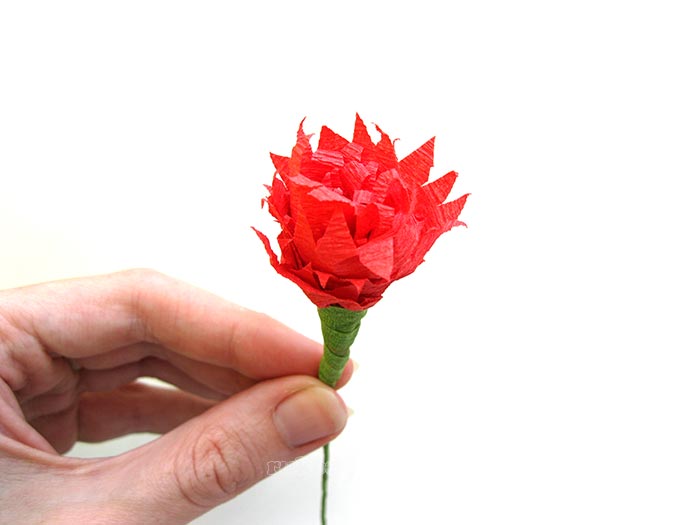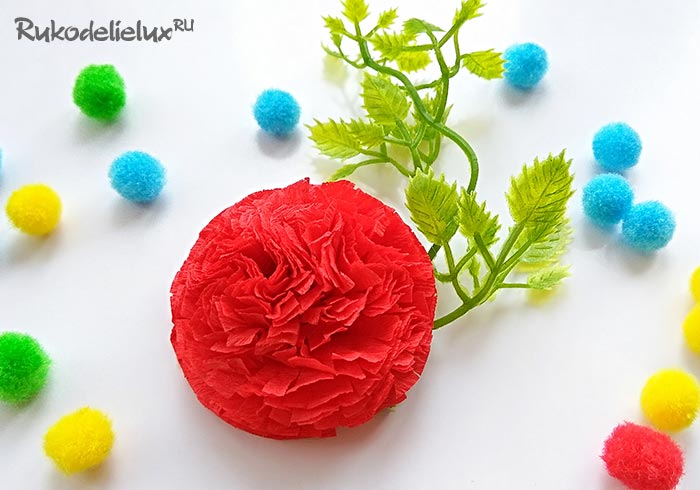 How to blind a plasticine soldier
On Victory Day in all the main squares of the country will be held solemn parades dedicated to the anniversary of the end of World War II. Someone will go along with the whole family to the Parade to enjoy the magnificent sight, someone will be watching television as the events unfold.
And children can blind together with their parents a small, victorious souvenir - a real soldier made from clay in the summer parade dress. This is a great hack on May 9th. See how realistic the figure looks like, which is shown in the final photo. See here how to make a plasticine soldier.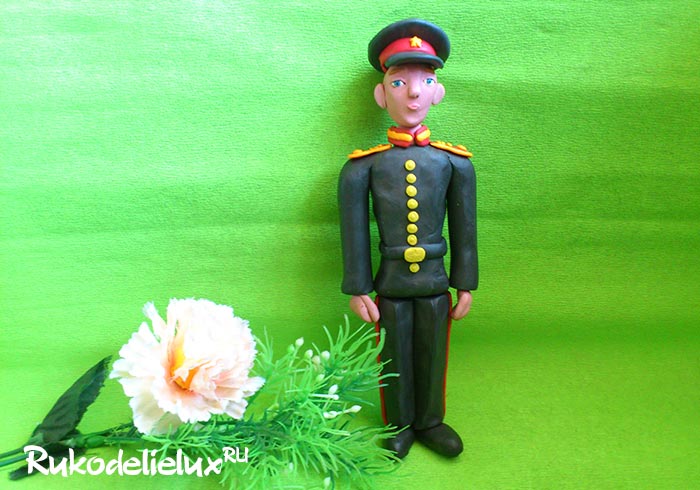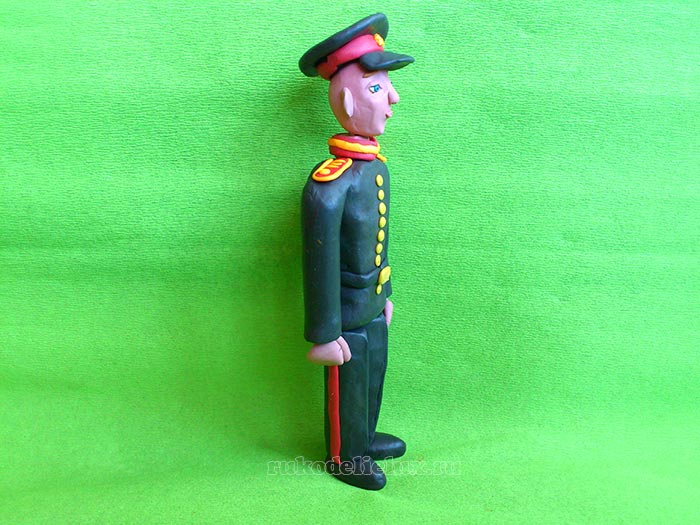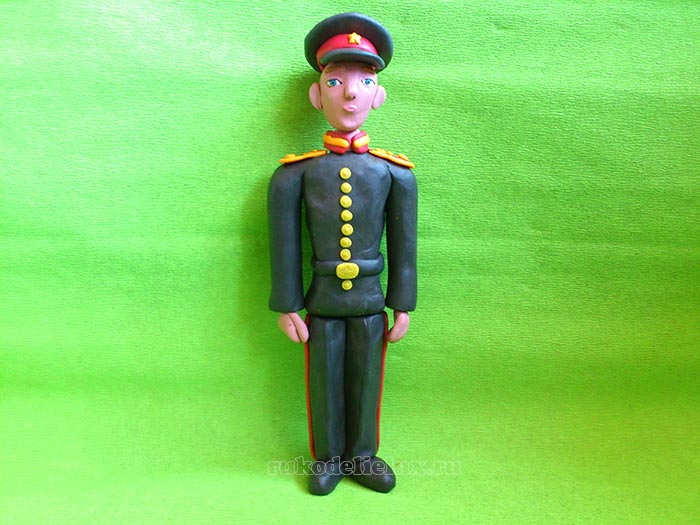 How to make a St. George ribbon using kanzashi technique
St. George Ribbon - is the central symbol of an important holiday of Victory Day. Such a striped path must be every member of the Parade or Procession of the Immortal Regiment, scheduled celebrations will be held in each city on May 9.
To make an accessory that is not like the others, use the popular kanzashi technique. St. George's loop can be made in the form of a brooch decorated with a delicate cream-colored flower. If you are interested in the version of the accessory shown in the final photo, then buy everything you need for work and begin the creative process. See here - how to make a St. George ribbon yourself.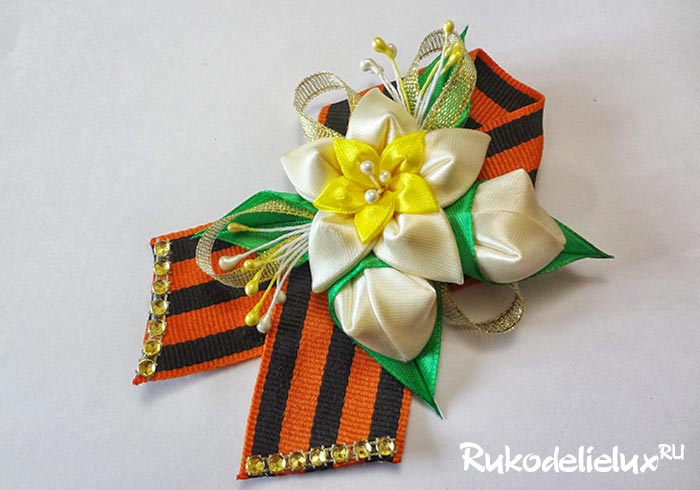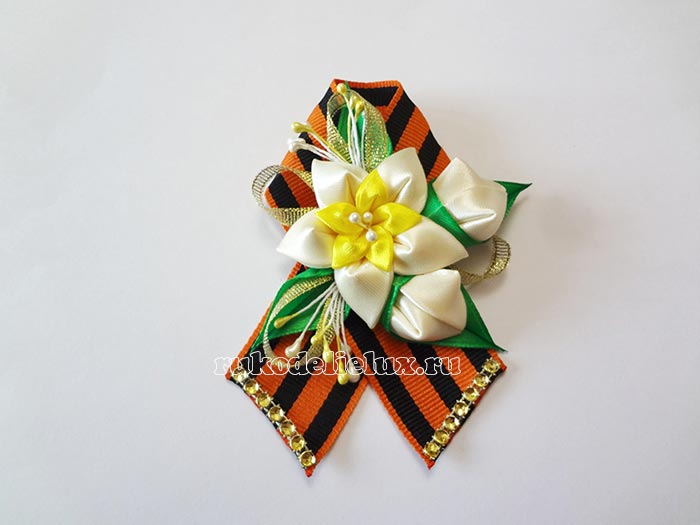 Postcards for 9 May with your own hands
To make a memorable gift for Victory Day, study the above master class. Here is narrated and shownhow to make postcards by 9 May with your own hands in many ways. This is a great lesson for elementary school. In the framework of patriotic education, such crafts are particularly relevant. You can hold an extra-curricular event, arrange a contest of postcards, and also take such important creativity of schoolchildren in the lesson of work. How to make postcards on Victory Day, see here.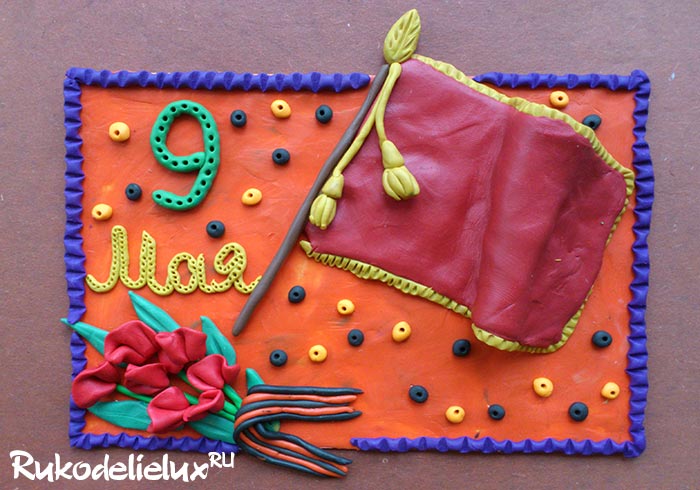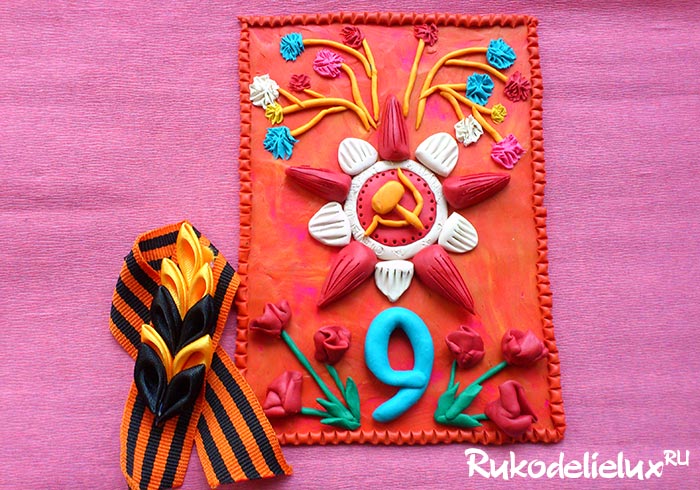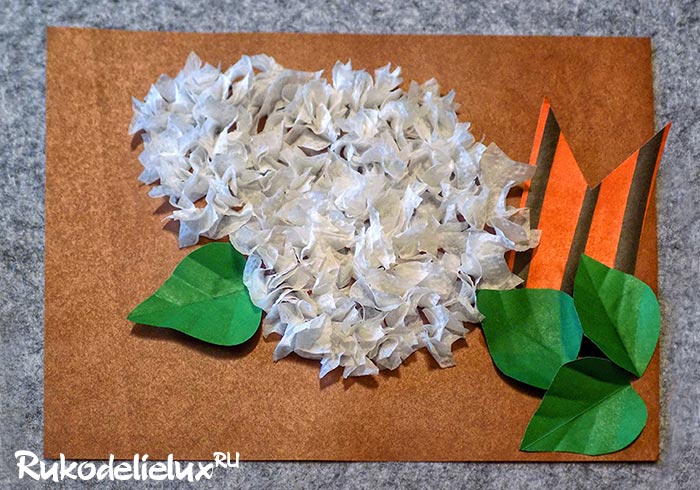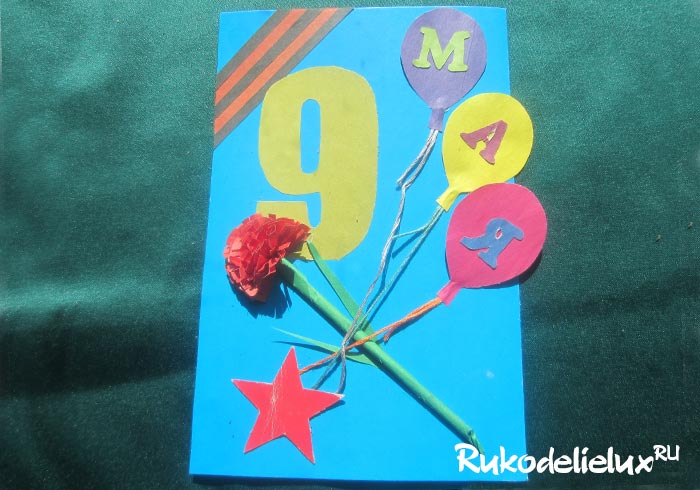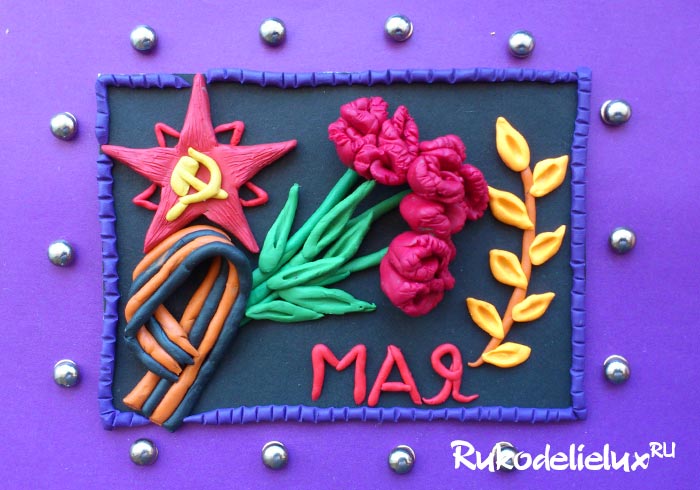 DIY paper star
In this workshop, I'll show several options for how to make a star out of paper with your own hands with step-by-step photos. Such a five-pointed symbol may be relevant now. For example, the red star is perfect as a gift to the grandfather and veterans. How to make a star out of paper, see here.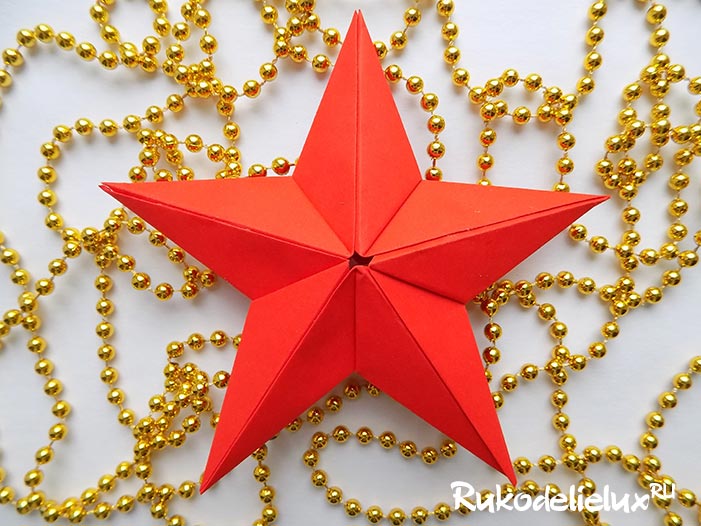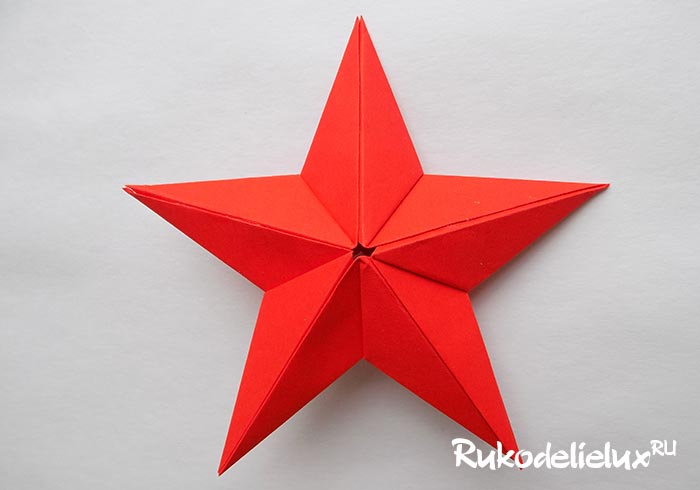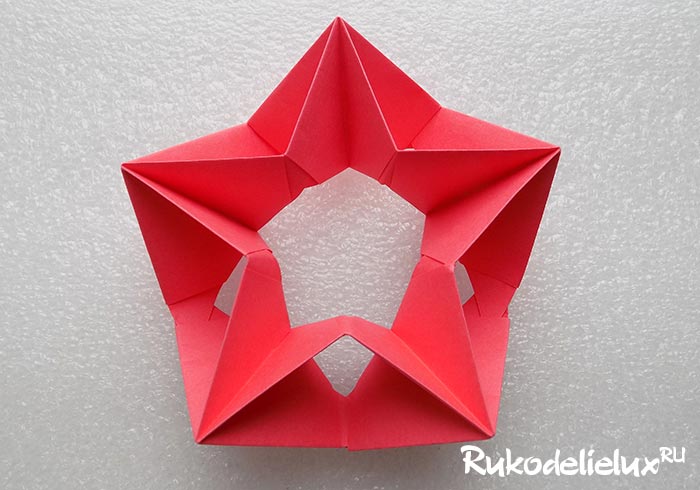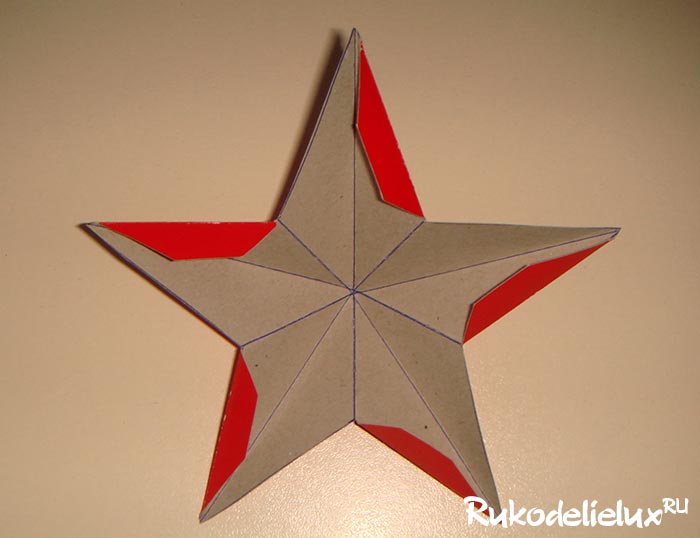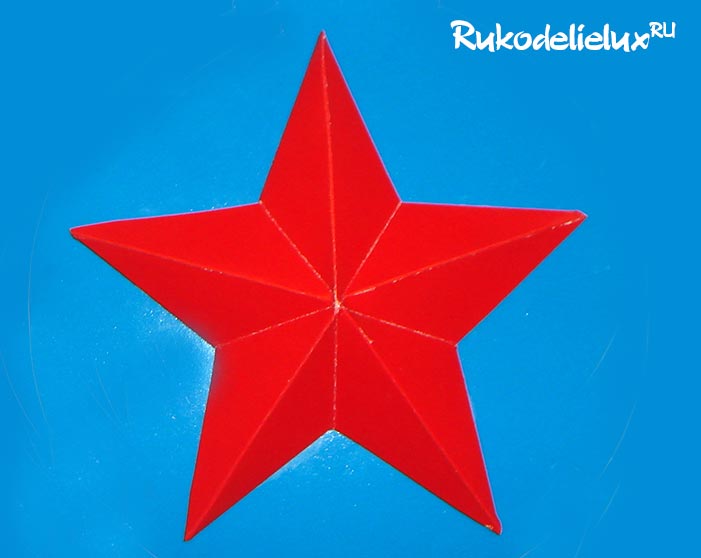 How to make a tank of plasticine
Here is a master class - how to make a tank for May 9 with your own hands from clay with step-by-step photos. Such a children's hand-made article on Victory Day with your own hands will be a great gift for your grandfather or dad. You easily and simply make it, following our master class. How to make a plasticine tank look here.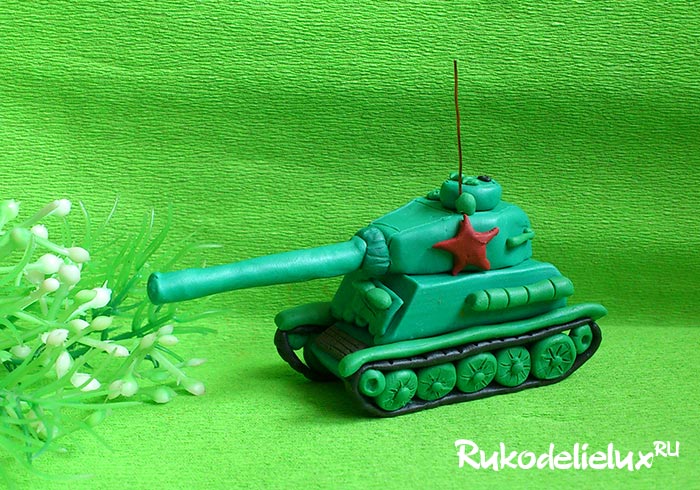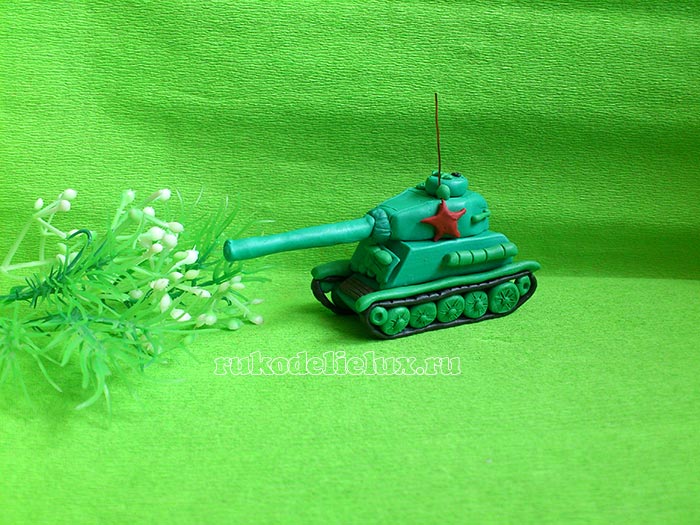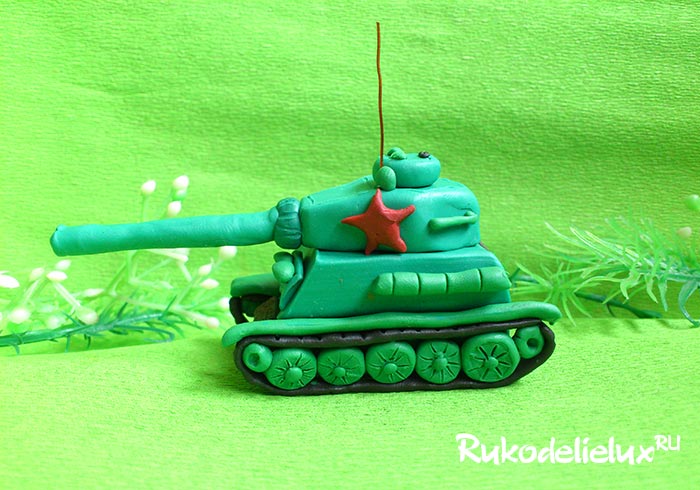 St George's brooch in Kansas style with his own hands
The famous black and orange combination, symbolizing the endless flames and smoke from it, is known to the modern generation as the St. George ribbon. It is a symbol of victory, which is customarily given to real heroes, brave warriors who distinguished themselves in battle, since the time of Queen Catherine. Today, such an order can try on everyone.
Old people and children, young people are different generations, but they are united by a single will to win, pride in the feat accomplished by ordinary soldiers of the Red Army. The usual striped fragment also gradually evolves. This is due to the indefatigable creative imagination of masters working in the kanzashi technique.Read more ...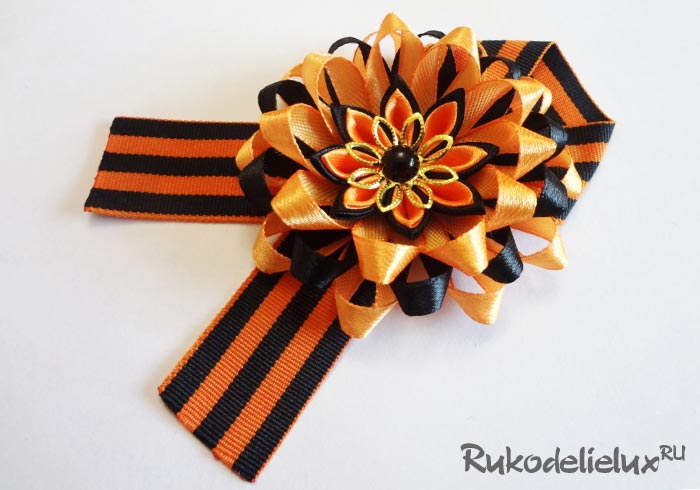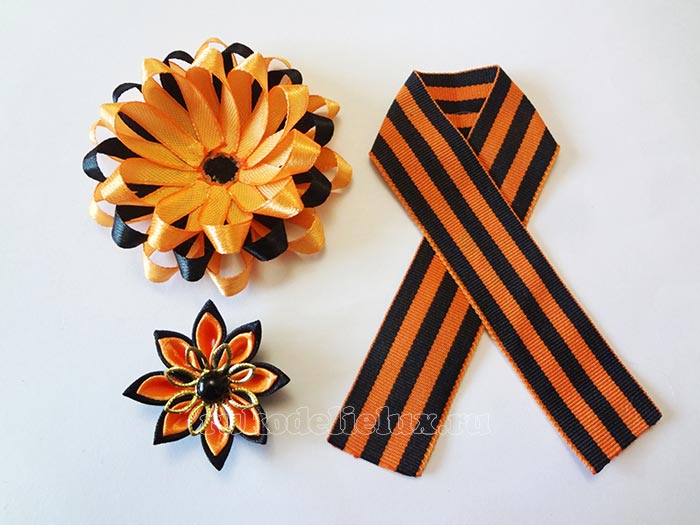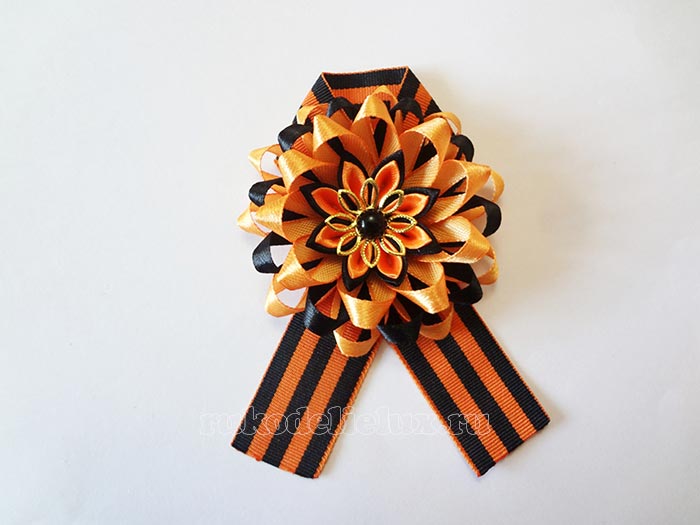 Among the traditional details that are used to decorate cards for war veterans, we can single out the most frequently used ones: red star, St. George ribbon, spikelet, carnations, and so on. Each of these memorials carries an important semantic load, they are not chosen by chance.
The teacher will tell pupils about why Victory Day is so important to us, what all these memorials mean. And it will be interesting for children to create such greeting cards for grandfathers and dads with their own hands.
Every year, veterans leave us to another world, so it's very important to preserve this holy tradition to honor Victory Day in the future and remember our history. This holiday and preparation for it causes us a sense of pride in our heroes and our country, as well as feelings of the inviolability and unity of our people.
>
Related News
Wings for a children's costume
Golden Fish
Miniature Christmas Socks
Beautiful jars for the kitchen
Original decor for sea pebble tiles
String and handful of beads can make incredible beauty
Cheek coat without sleeves. Some useful tips
The best kebab recipes that will soon come in handy for you