CAT PHOTOGRAPHY 101
How to Photograph Cats
Three Parts:
Is your cat photogenic, but you can't seem to get a good picture? Or does your cat shy away or act up as soon as she sees the camera come out? Even if you're a good photographer, photographing cats can be challenging. Fortunately, if you know how to work with your cat and make a few technical adjustments, you can get quality images that capture your cat's true personality.
Steps
Working With Your Cat
Let your cat check out the camera.

Give your cat several minutes to sniff, look at, and check out your camera before you begin photographing. This will make her more comfortable with the equipment, so she'll be less likely to run off or be frightened by it.

Give your cat a chance to warm up to being photographed. Don't expect to immediately take amazing photographs. Your cat will probably be curious for a few minutes.

Give your cat something to do or look at.

Your cat probably won't simply sit still while you take her portrait. Instead, give her things to play with. Consider offering her new toys to play with. If you'd like to keep her in one spot, try setting up a new stationary toy like a cat tower or post.

Try giving your cat a view of something interesting. For example, offer your cat a view out of a window and scatter bird seed outside. This way, she'll be entertained by birds eating.

Give your cat treats.

Treats like cat food treats or catnip can be great photography aids. Give your cat treats to reward good behavior, like sitting still for a minute. You can also give treats as a way to direct your cat's attention. For example, hold a treat near your head so your cat looks at you. This way, you can get a photo of your cat looking directly at the camera.

You may want to ration out how many treats you want to give your cat before you begin taking pictures. This way, you don't accidentally give your cat too many treats throughout the session.

Be patient.

You might get great shots right away or you may need to take a lot of photos just to get a good one. Be sure to give your cat plenty of time and space. Your cat will feel more relaxed if you remain relaxed instead of stressing about taking the perfect shot.

Have fun photographing your cat. Consider setting up a tripod to automatically take photos. This way you could play with your cat and just let the camera capture the fun you're having together.

Know when to stop photographing.

Some cats will enjoy being photographed longer than others will. Pay attention to signs that your cat no longer wants to be the subject of your attention. If your cat seems distracted, gets angry (hisses, scratches), or tries to walk away, end the photo shoot. You probably won't get good photographs if your cat isn't cooperating, so try again later.

Never force your cat into poses. These are often unnatural for cats and can lead to injury. Always consider the needs of your cat.
Setting Up the Session
Choose your background.

Consider what kind of background to use when taking a photo. If you choose a background that's bright, detailed, or distracting, your cat will be competing for the focus of the shot. If you use this kind of a background, photograph only a bit of your cat (like her tail as she runs from the frame).

For a professional-style portrait, consider using a simple white backdrop or neutral sofa. This will make your cat the focus of the image.
You can keep the background natural by just photographing outside in the yard.

Select props.

You can add interest to a photograph by including props or other people. For example, you might photograph your cat playing with one of her favorite toys or snuggling with a member of the family. Other props might include a pile of leaves, a cozy blanket, or baskets.

Props are a good way to let your cat's personality come through. If you have an energetic cat that's constantly moving, showing her playing with balls can illustrate that energy.

Think about the specific cat you're photographing.

Don't forget to really think about what your cat looks like and the challenges she presents. For example, if you have a black cat, you'll need to make sure that the background you select will contrast with her dark fur. Or, realize this and make the photograph dramatic by shooting against a black background.

Likewise, if you're photographing a shy cat, but need to include other cats in the photograph, don't be surprised if the shy cat tries to run off or doesn't cooperate.

Consider the light.

If you can, photograph your cat in natural light. This way, you can avoid harsh artificial lighting. If you photograph outside, avoid bright direct light which can make difficult shadows. Instead, try to shoot around mid-morning when the light is a little softer.

If you have to shoot indoors, avoid using a flash.Your cat will probably blink and then learn to look away from the camera when you photograph her. Flash can also make your cat's eyes take on a bright red color.

Select a high shutter speed.

Since most cats move around quickly, you'll need to make sure your camera can keep up. Set a high shutter speed so that your image won't be blurry if your cat is playing or moving.

You should also consider how sharp or blurry you want the background to be and adjust your f-stop accordingly (a higher f-stop will make for a sharper image, while the lower f-stop will create a shallower depth of field).
Taking the Photographs
Decide which images you want.

While it's a good idea to go into the photo shoot with lots of flexibility, there may be a few images you know you want to get. Consider making a short list of images you really want to get. For example, you may want:

A close up of your cat's paws or eyes
An image of your cat sleeping
A photo of your cat grooming herself
A photograph of your cat playing or doing a trick

Choose a focal point.

As with any type of photography, you should choose a focal point when taking a picture. This could be some part of your cat or something behind your cat. For example, you could have a bright red background with your cat filling most of the frame. In this case, your cat is the focal point.

If you fill the frame with your cat, decide if you want to focus on some feature of your cat. For instance, you may do a close up of your cat's eyes or whiskers.

Get on your cat's level.

It's easy to start taking photos by pointing the camera down at your cat. But, for a more interesting image, get on your cat's level.You'll be able to directly photograph your cat's face, which can be great for a close up.

To get on your cat's level, you can get down on the ground or try setting her on something elevated so she's nearer to your level. Always set your cat on a safe spot where she can't injure herself.

Shoot from several angles.

Try shooting from a variety of places. You might start by photographing down at your cat while your cat looks up at you. Remember to shoot at your cat's level. But, you can also try raising your cat up while you get below her. This way, you can shoot up, with your cat looking down.

There's not one perfect angle for photographing cats, so try several. You won't know what angles work best until you try photographing from them.

Get action shots.

Taking posed cat portraits can be difficult, so start by letting your cat run around and play. Take candid action shots while she does this. It's a great way to let your cat's personality really shine.

Make sure your shutter is set to a high speed so the image doesn't come out blurry.

Take lots of pictures.

Since cats are unpredictable, be prepared to take a lot of photos. Don't wait for your cat to do something interesting, or you may lose your opportunity for a great photo. Instead, plan on taking a lot of pictures. This way, you're likely to get good shots and you'll have a lot of images to work with later if you'd like to edit them.

If you can, set your camera to burst mode so that when you press the shutter, the camera takes several images spaced over a second or two.
Video: The Trick to Getting a Cat to Look at a Camera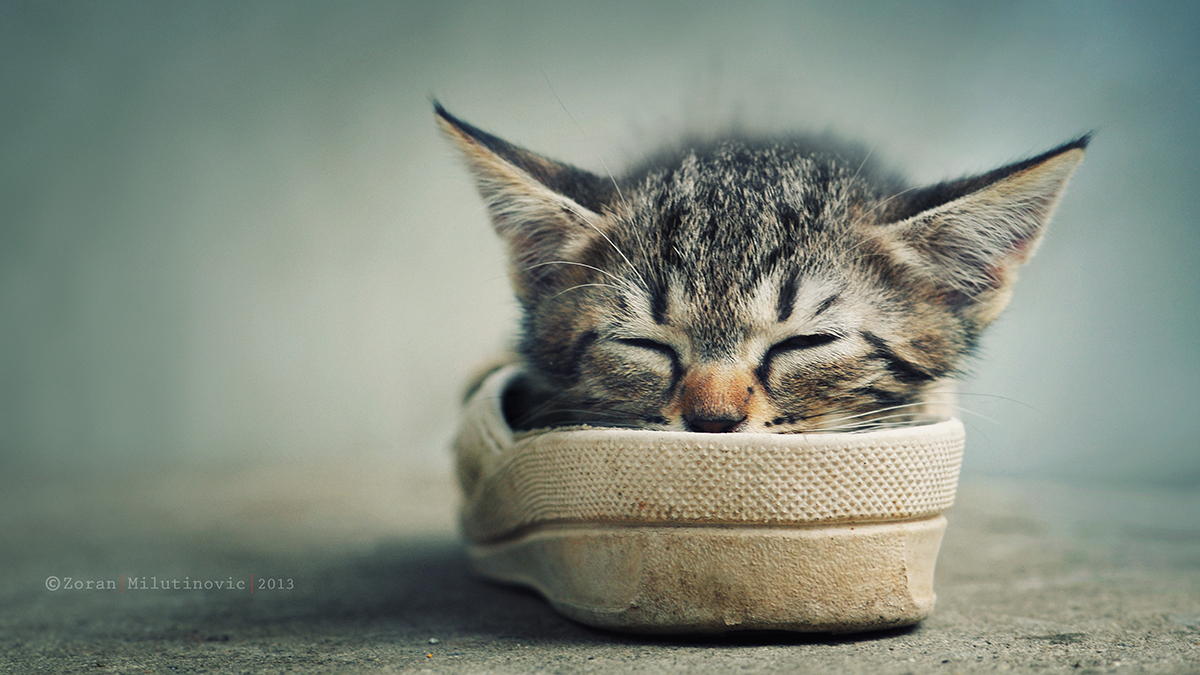 How to Photograph Cats images
2019 year - How to Photograph Cats pictures
How to Photograph Cats advise photo
How to Photograph Cats foto
How to Photograph Cats new images
pics How to Photograph Cats
Watch How to Photograph Cats video
Communication on this topic: How to Photograph Cats, how-to-photograph-cats/ , how-to-photograph-cats/
Related News
COVERGIRL Outlast Lipstain, Saucy Plum
How to Shrink Tumors in Dogs
This Little Girls Performance of Defying Gravity Will Leave You Speechless
Sofia Vergara Discusses Plastic Surgery in Lucky's November 2012 Issue
How to Travel to Machu Picchu from the UK
22 Fall Dresses to Wear (to Work)
Netflix Is Intentionally Lowering Video Quality for Some Customers
How to Detangle Curly Hair
15 utterly gorgeous wedding readings (pass the tissues)
The Best 25 Short Curly Hairstyles for Black Women
Date: 10.12.2018, 15:34 / Views: 64264
---